BMW Alpina Cars
Alpina started from selling tuning kits for existing cars of different brands (in 1961) and within a little more than a year - exclusively for BMW cars. Today, as a result of constant support and collaboration with the mother company, Alpina has become the most important addition to the BMW production range. Alpina cars are luxurious BMW's tuned to be still faster, with limiters removed. As a result you receive a comfortable convertible like Alpina B6S going no less than 313 km/h (195 miles p. hour). We love these cars.
1963-1965
First BMW ALPINA's - BMW 1500 ALPINA
it is commonly accepted that a BMW 1500 from 1962 has been the first Alpina tuned car but there were also cars of other brands tuned;
BMW 2000 Alpina, BMW 2000ti ALPINA
BMW 1800ti and 2000ti cars were often tuned with Alpina kits by private enthusiasts of the car racing.
1966
< Alpina tuning options for BMW 2000ti from 1966 (picture from:
http://www.bmw1800ti.writernetwork.com
) <<BMW 1800ti tuned, now with 12V electric system (picture from
http://www.bmw-02-club.de
) <<<US evaluation sheet - Alpina 1600/ Alpina 2000
next year - in 1963, Burkard Bovensiepen, son of Dr. Rudolf Bovensiepen (founder of Alpina office machines firm) developed a tuning kit with dual Weber carburetors, which dramatically improved performances of then very popular in Germany BMW 1500, the kit price was 980 DM; later the kit for BMW 1800 has been also issued;
Alpina Cars firm has been officially established on January 1, 1965 and since Alpina tuning kits were certified by BMW therefore they were not making the BMW factory guarantee invalid
<<<Alpina typewriter from ca. 1957 (photo from Typewriters Illustrated Encyclopedia) << Alpina kit for the BMW 1500 in a box <<< tuned BMW 1500 in action <<<<Alpina engine head in BMW 1500 - 1964
1964-1972
BMW 1600 ALPINA
the Alpina tuned BMW 1600
< the kit << the motor after improvement (picture from
http://www.bmw-02-club.de
)
BMW 1600-2 ALPINA
1967 - 1972
the Alpina tuned BMW 1600-2 was the first car badged as Alpina, it had a 2L engine from BMW 2000ti, with two Weber carburetors resulting in 165 hp, the car also had a 12V electric system (1600 had still a 6V) and ventilated disc brakes
BMW 1800 ALPINA
1964-1972
sedan BMW 1800 Alpina has been a street car with sharp performances
BMW 1802 ALPINA
1972 -1977
Coupé based upon BMW 1802
ALPINA 2002 (A2)
1970-1974
Coupé and touring, based upon BMW 2002 - so called Typ A2, inline 4 cyl. engine, 223 hp
ALPINA 2002 racing car (A3)
1969 -1974
Typ A3 - faster and more expensive street racing version based upon BMW 2002
ALPINA 2002 tii (A4)
1973-1974
sedan and touring version based upon 2002 tii (Typ A4) and as a racing car (Alpina 2002 Renntourenwagen), inline 4 cyl. engine, different versions
ALPINA A4S
1974-1976
Two-door sedan and three-door touring version based upon BMW 2002tii, ca. 200hp
ALPINA 2800, ALPINA 2800 CS
1970-1972
so called Typ B1 based upon BMW 2800 with an Alpina 2800 engine, 205 PS, 0-100 km/h in 8 sec., top speed 215 km/h
ALPINA 3.0 CS, ALPINA 3.0 CSi
so called Typ B2, , based upon E9 Coupé , 215 hp and 250 hp 3L motor, max speed 220 km/h
1971-1973
press cut from
http://www.alpinabmw2002.com;
engine picture from
http://www.thealpinaregister.com

ALPINA 3.0 CSL, 3.0 CSL B2S
exists in several different editions, usually a stripe along the car says 3.0 CSL ; read more at M5board; sometimes also called Typ B2S
1971-1975
ometimes just 2 or 3 cars were made of one edition, in total ca 80 cars, last two or three cars in 1975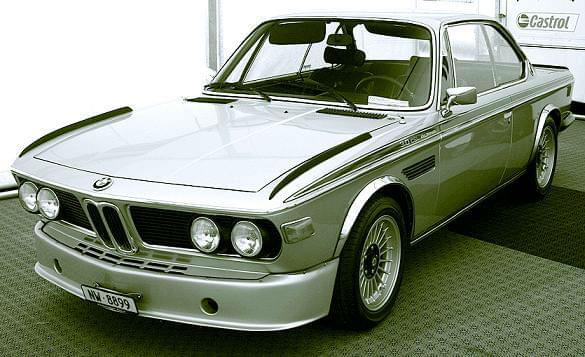 ALPINA 3.0 CSL Racing Car, 3.5 CSL Racing Car
1971-1975
magazine cover from
http://www.alpinabmw2002.com
BMW-ALPINA 520, ALPINA A4, A5
1973-1976
so called "Bayerischer Bastard", sedan based on the BMW E12 BMW 520 - tuning kits A4 were sold for the production ready BMW 520 with inline 4 engine, the car was usually in golf yellow color with black Alpina stripes, but often without spoilers and Alpina stripes like a regular 520
ALPINA B2, B2.S
Sedan based on the BMW E12, BMW 528; 230 hp, max speed 230 km/h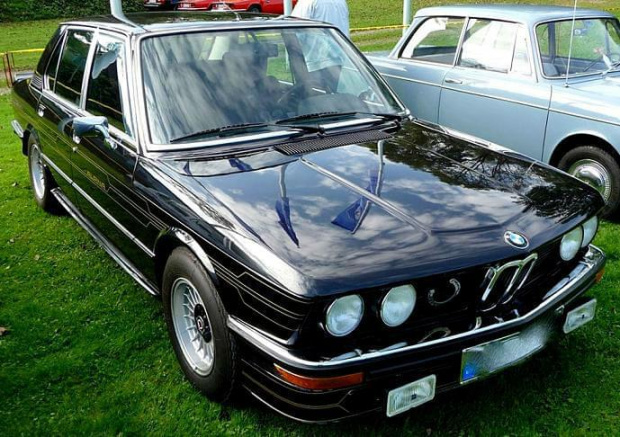 ALPINA B6
Sedan based on the BMW E12, BMW 528;, no Alpina badge at the rear; 165 bhp; 212 km/h
1976
Alpina E12 B6 and its engine - pictures of engine from:
http://www.facebook.com/pages/Classic-a ... nthusiasts
Alpina B8, B9S
based upon BMW 528; 3.2 liter; 240hp; Bilstein suspension; ventilated disks front and rear
5-speed gearbox
1977 - 1980
according to some sources - two cars B9S built on the E12 chassis, the rest of the series on E28 >see below
ALPINA B7 Turbo
1978-1982
Sedan based on the BMW E12 528; 3 L engine, 5 speed manual gearbox, 300hp, top speed 250 km/h - 155 mph
149 made
ALPINA B7S Turbo
1981 -1982
Sedan based on the BMW E12 528i - for several years the fastest existing sedan on Earth, 3,5 L engine, 330 hp, 5 speed manual gearbox, top speed 262 km/h - 163 mph
60 cars made

ALPINA A1/3, A2/3
two door sedan based on the BMW E21 3 series 320 with double Weber carburetors and 320i; 125 hp fro the A1/3; 155 hp for the A2/3
1975 - 1977
<an engine from A1/3 (picture from
http://www.alpinabmw2002.com
)
ALPINA B2, B2S, B3, B4, B6 2.8
two door sedan based upon BMW E21 323i, B6 2.8 had 200hp engine
November 1978-January 1983
B6 2.8: 533 cars built in two versions (324, 209)
<< engine from B6 2,8
ALPINA C1 2.3
April 1980 -July 1983
two door sedan based on the BMW E21 3 series, 533 cars were built, engine from 528i, 5 speed Getrag gearbox , from 0 to 100 km/h in 6 sec, top speed 225km/h
462 cars built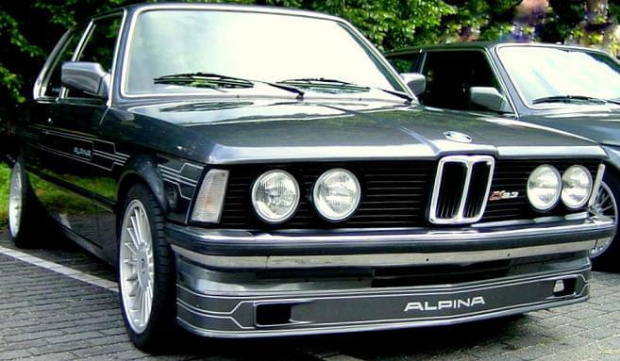 ALPINA B7 Turbo
1984-1987
Sedan based on the BMW E28, 340 hp - 360 hp (no cat) 3.5L engine,
edition of cars numbered up to 278
ALPINA B9 3.5
1981-1985
Sedan based on the BMW E28
500 made (66 RHD)
ALPINA B 2.8
1984-1985
Sedan based on the BMW E28
the engine picture is from
http://www.thealpinaregister.com
ALPINA B7 Turbo Coupé, B7S Turbo Coupé, B7 Turbo Coupé/1
1978-1988
Coupé based on the BMW E24 630 CSi (B7 Turbo Coupé ) and CSi 635 (B7S and B7 Turbo Coupé /1
B7 Turbo Coupé : 153 cars; B7S Turbo Coupé : 30 cars; B7 Turbo Coupé / 1: 20 cars cars
ALPINA B9 3.5 Coupé, B9 3.5 Coupé/1
1982- 1985
usually called B9 3.5 Coupé /1 to differentiate from B9 3.5 built on an older six series chassis; based on the BMW 635 CSi; 245 hp
75 cars of the type B9 cars were built (including only 2 cars on an old E24 chassis built in 1982)
the engine picture is from
http://www.thealpinaregister.com
ALPINA B10 3.5 Coupé
1985-1987
Coupé based on the BMW E24/1 635 CSi, 245 hp, 0-100 km/h 6,7 sec., top speed 240 km/h - 150 mph; 261 hp for Alpina B10S
44 cars - B10 on E24 chassis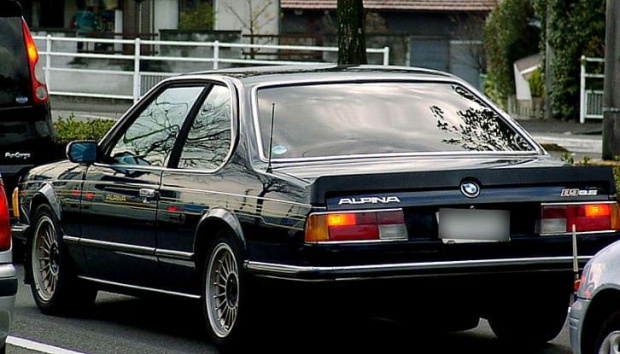 BMW SA 333i
1995-1987
Two-door sedan by Alpina based upon BMW E30, 3.3L engine, ABS, ca 200hp, 204 cars built; the cars were badged as BMW 333i with Alpina badge on wheels, Alpina letters on the turbo and BMW on engine cover
< BMW SA 333i - the picture is from
http://www.thealpinaregister.com
ALPINA C1 2.3, 2.3/1, 2.5
1983-1987
Two-door sedan based upon E30 323i and 325i
C1 2,3 - 462 made. C1 2.3/1 - 30 made, C1 2.5 - 50 made
ALPINA C2 2.5, 2.7, 2.7 kat
1986-1987
Two-door sedan and cabrio based upon E30 also 4WD
C2 2.5 - 74 made, C2 2.7 108 made, C2 2.7 kat - 52 made
ALPINA B6 2.8/1
1984- 1986
Alpina B6 2.8/1 - BMW E30 two door sedan based upon 323i and 325i; 210 hp, Girling brakes at the front; top speed 230 km/h
259 made the car picture is from
http://www.bmwinfo.com
- an engine picture is from
http://www.thealpinaregister.com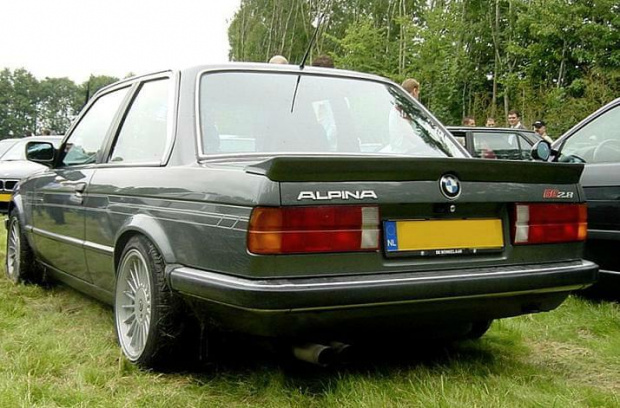 ALPINA B6 2.7
1987-1992
BMW E30 two door sedan, 4 door, touring and cabrio, also 4WD; RHD for Japan; 210 hp;
ALPINA B3 2.7
1987-1992
Two-door and four door sedan based upon E30 325i, also touring and cabrio versions, also 4WD version; based upon BMW 325i, 2,7 L Kat engine, 204 hp,
257 made
ALPINA B6 3.5
1985 - 1990
BMW E30 two and four door sedan based upon 323i and 325i; 6 cyl. engine, 217 hp
in total 219 cars produced in three different versions (92, 40, 87)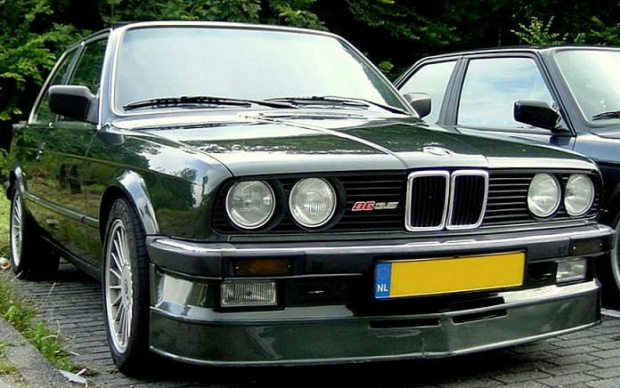 ALPINA M3 RACING CAR
1987-1993
Two-door racing car based upon BMW E30 M3
ALPINA B3.5, ALPINA B9 3.5, ALPINA B11 3.5
1987-1993
Sedan based on the BMW E32, different versions and differently badged cars badged cars
332 cars built in 3.5 version
ALPINA B12 5.0
1988-1994
Sedan based on the BMW E32 750iL - long wheel based, ca 300 built, V12 engine, 350 hp, 0-100 km/h in 8 sec., max speed (limited) - 250 km/h - 155 mph
305 cars built
źródło:bmwism.com
c.d.n